Anshul Bhatt becomes youngest World Champion
Darwin Li from Toronto, Canada was Mumbai-based Anshul's partner.
"We congratulate young Anshul Bhatt on this stupendous win. His gold medal and championship win have the potential to do to the game of bridge what Vishwanthan Anand's early success did to chess," said Gianarrigo Rona, President of the World Bridge Federation (WBF).
A total of 27 pairs from across the world player in the Under-16 category qualifying rounds where they played three boards against each other in a full round robin schedule (3 * 26 boards) spread across three sessions on Monday and Tuesday. The top 12 qualifying pairs went into the finals where they played a two full round robin schedule (4 * 11 boards) on Wednesday. Anshul and Darwin emerged as the winners.
This is the second award for Anshul Bhatt at the World Bridge Youth Championships. He is the youngest recipient of the Joan Gerard Award, which aims at rewarding aptitude, fair play, good sportsmanship and a friendly international spirit, rejecting any discrimination. Anshul had won the prestigious award at the age of eight in 2017 at the World Youth Open Championships in Lyon, France.
According to the World Bridge Federation, the Transnational events give players a unique opportunity to play in partnerships and teams with friends from other countries – maybe partnering friends that they have made online during the pandemic and can now finally meet face to face in competition. It is in this spirit that Anshul and Darwin, who had only played with each other online before this tournament, decided to play as partners.

I was tremendously fortunate to meet Anshul Bhatt, the youngest person at age 8 to compete - and win - in the world.

I had met Anshul's father in Omaha for Warren Buffett's amazing event, being flabbergasted at the talents, abilities, and wisdom of Anshul.

As you can see below, Anshul's abilities and stardom (Ted Talks, anyone - anyone)
rocketed to moon.  Anshul became a star immediately, and appeared to have the strength and abilities of a young man as his Ted Talk impressed around the world.

I played some with Anshul as he learned more in a few days. Yet it soon became obvious that this fine boy learned quietly, confidently, and brilliantly around the world.


I dearly hope that those who meet Anshul continue to follow him.  I feel confident that as time passes, Anshul shall clearly grow into "the greats" as he himself becomes one and a star himself.
Do your best to learn about Anshul yourself.  He shall surely be one to cause thousands to have joy, mega abilities and striking talents for years to come!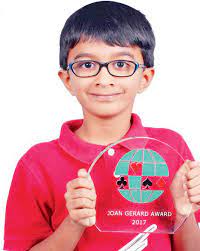 A student of Grade IX at the Dhirubhai Ambani International School (DAIS) in Mumbai, India, Anshul has been regularly participating in various open category local, national, and international tournaments. He won the Junior National Bridge Championships (U-26) in Mysore, India, in August 2018, and the Junior National Bridge Championship (U-21) in December 2021.
Anshul has diverse interests and an insatiable curiosity that extends from the sciences to the humanities. He enjoys reading books by Philip Pullman, JK Rowling, and JRR Tolkien and is a die-hard Star Wars and Avengers fan. He loves to cook, to play board games, and to write short stories. Every evening, he looks forward to playing squash, cricket, football or going cycling with his friends.
ABOUT WORLD YOUTH BRIDGE CHAMPIONSHIPS
ANSHUL BHATT IN MEDIA TEDx TALK:
Bridge: A Game for Life by Anshul Bhatt
Business Standard, May 2018: Meet Anshul Bhatt, a bridge champ at eight
Mid-day, September 2017: This 8-yr-old boy plays the right cards
World Bridge Federation, September 2017: 
Joan Gerard announcement
Indian Express, August 2019: Bridging the age gap
World Bridge Federation, August 2017: 
Video interview with Anshul Bhatt
World Bridge Federation, August 2017: 
Anshul Bhatt conducting the oath taking at the opening ceremony
France TV: Interview with Anshul Bhatt